Gallery: pots from the anagama kiln
Gallery :: about jay
Gallery :: where to find Jay's pots
Gallery :: helpful links
We are in the process of adding a shopping cart to the web site. If you see an item below you are interested in purchasing, please contact Jay by email, or by calling 541.738.7601. Thank you for your patience.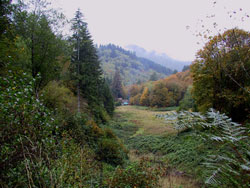 The most important pots I make are those that tell a story about my relationships with food rituals and my life in the Oregon Coast Range. I see my primal nature as that of a farmer - hunter - gather. I carefully tend a small year around garden at home and grow saw timber trees on my Alsea farm. My Digger Mountain studio and cabin is located 27 miles up river from the Alsea Bay and brings me in close contact with the Pacific Ocean.
One defining experience from this environment is raking crabs and clams on daybreak minus tides in the summer - or in the fall with a lantern at night. I wade the bay with a special garden rake and a gunnysack strapped over the shoulder for the catch. Looking through the water I search for the faint suggestion of a buried crab under the rill marked patterns in the sand with a mosaic of shells and seaweed scattered on the bay floor.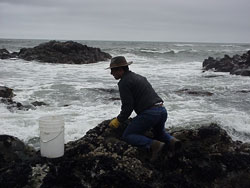 The coast trip usually includes a visit to tide pools below the massive basalt rock formations of the Cape Perpetua headlands. On a worn path to the waters edge I cross an Indian shell midden and dodge waves from the incoming tide to harvest a bucket of mussels, collect seaweed, and carry home a rock or two.
This interaction with the natural world has become integrated in my pots and is a spiritual base for my aesthetic reference in clay. The pots that come from this naturalistic experience are the closest to my personal center and give back strength to heal the soul. -- Jay Widmer
Jay shows his work at the following locations:
Pegasus Gallery :: Corvallis, OR
The Arts Center :: Corvallis, OR
Navigator News :: Sisters, OR
Don Terra Artworks :: Sisters, OR
Perspectives Gallery :: Bend, OR
Riversea Gallery :: Astoria, OR
Oregon Potters Association Showcase :: Portland, OR :: April 29th & 30th, May 1st - Oregon Convention Center
Bounty of Benton County :: Open house and sale at the Alsea Anagama kiln. Typically held on Labor Day Weekend
Linn-Benton Community College Faculty Show :: LBCC Albany Campus, OR :: held in September
Additionally, Jay holds studio sales at his home in Corvallis twice a year.
Please fill out the following form if you wished to be notified of studio sales.
Sign up for Jay's mailing list
helpful links:
Clicking on the links will open a new Browser Window
Alsea Anagama Crew Member web sites:
---
For Supplies:
Georgies - located in Portland and Eugene, OR
Clay Art - located in Tacoma, WA Clay Art delivers to Oregon
---
Other wood-fire potters: